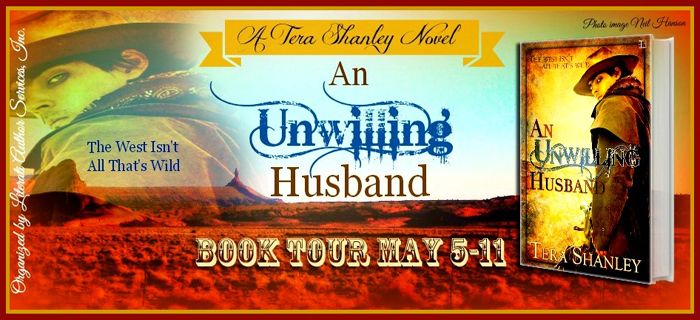 Author: Tera Shanley
Genre: Historical Western Romance
Release Date: May 5, 2014
Cover Art: Renee Rocco
Publisher: Lyrical Press – A Kensington Imprint
Synopsis
For adventurous Margaret Flemming, arrived from Boston to be with her father, the Old West town of her childhood is a far cry from the drawing rooms and balls of the high society life she's used to. Her fancy gowns and proper manners have no place in the dusty, cruel land inhabited by Indians and rough cowboys.And her fiercely independent streak constantly gets her in trouble. When tragedy strikes, there's only one person she can turn to–her childhood friend, Garret Shaw–but he's disgusted with her Society ways.
With his ranch under attack from the land-grabbing Jennings, the last thing Garret needs is to be saddled with a high-falutin' lady. Even if she is his friend's daughter and her kind ways tug at his hardened heart. Duty to her father forces them to wed, but he knows sure as anything, when the chance comes along, she'll go back to Boston. No matter how much he wants her, loving her is not a risk he can take.
Purchase Links
Amazon | Barnes and Noble | iTunes | Kobo
My Review
My Rating: 5 Stars
"From the disconcerting way he stared at her, she couldn't tell if he was going to kiss or kill her."
I feel like I need to make one of those memes and have it say "I don't usually read historical romance, but when I do, it's by Tera Shanley". It's true, I don't generally read this genre but I'm a big fan of the author so I thought I'd give a shot; I'm glad I did. I was rewarded with a totally delightful reading experience as I was transported back to a dusty Texas cattle town and right in to Maggie and Garret's story.
If it's going to be historical, I want it to be western. One word… cowboys. Rugged, hard-working, sexy cowboys. Garret Shaw fits the mold perfectly. He's chiseled and hard from long days of work, brooding and moody, but also loyal and kind in his own way. He loved Maggie once, but that was years ago… he's not sure he can trust enough to love her again. Then there's Maggie. She's absolutely the kind of heroine that makes a book great for me. She has a fantastic inner strength, stubborn determination, a sense of humor, sense of self, and a dirty mouth. She's beautiful and tough as nails, but has just the right amount of feminine vulnerability. She's smart and brave and not afraid to do what she believes is right, others' opinions be damned. Garret and Maggie have some serious chemistry going on. They spend a good part of the story trying to find common ground, fighting with the past and an undeniable attraction. The struggle towards their happily-ever-after is filled with emotion and quite a few exciting misadventures.
"He wanted a piece of her soul. Would wrench it from her body and hold it in her hand. Asked her to trust him with a piece of herself, and she could only think of one thing that held any meaning to her.
'I've loved you since we were children.' "
This story is not only about Garret and Maggie, though it is their romance that drives the plot line; it's much bigger. They are surrounded by an entire cast of characters. Lenny is a particular favorite of mine but they're all great. This cast reminds us that family is not necessarily blood, it truly is the people we choose to surround ourselves with. We can choose our family, and we can choose our home: if you try hard enough, you will find where you really belong. A wonderfully written story shaped by romance, humor, friendship, adventure, and fate; I highly recommend this book… even if you don't usually read historicals ;).
"The rhythm of the ranch matched those of the seasons and pulled at her heart. The more she saw of this life, the more she loved it."
*I received a complimentary copy of the book in exchange for a fair and honest review.
About the Author
Tera Shanley writes in sub-genres that stretch from Paranormal Romance, to Historic Western Romance, to Apocalyptic (zombie) Romance. The common theme? She loves love! A self-proclaimed bookworm, she was raised in small town Texas and could often be found decorating a table at the local library. She currently lives in Dallas with her husband and two young children and when she isn't busy running around after her family, she's writing a new story or devouring a good book.Any spare time is dedicated to chocolate licking, rifle slinging, friend hugging, and the great outdoors. For more information about Tera and her work, visit www.terashanley.com.