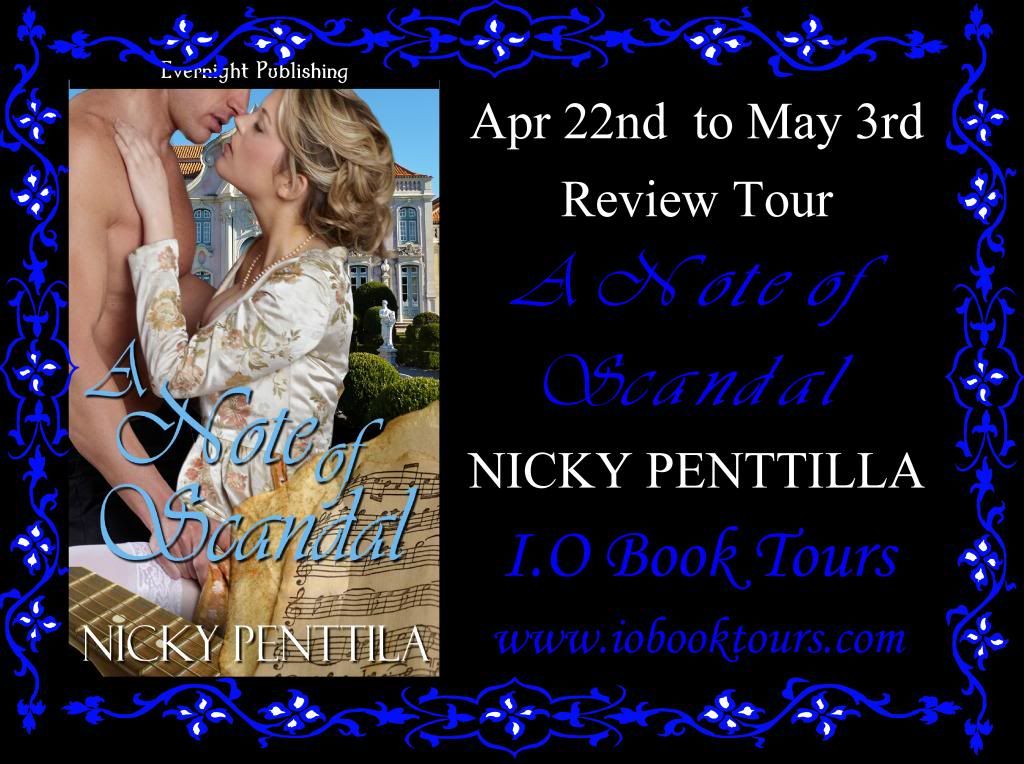 Welcome to the A Note of Scandal Book Tour! Today I have my review and an excerpt from this lovely historical romance.
About the Book:
What's the harm in a little white lie?
Especially when it could carry so much good: a new life for a wounded soldier, catharsis after long years of war—and an opportunity for lady composer Olivia Delancey to finally hear her music played in public.
Newspaper publisher Will Marsh refuses to compound the sins of his father's generation by taking money to print propaganda. But with the end of the wars in France and America, he needs something new to drive Londoners to grab his paper first. Why not publish the score of the "Tune That Took Waterloo," by a wounded vet, no less?
As Olivia struggles to keep her secrets from this unsuitably alluring publisher, and Will fights to find the truth without losing his hold on this bright-eyed angel who has descended into his life, both discover another sort of truth.
Being the talk of London can be bad—or very, very good.
Interesting elements:
The newspaper-publishing setting is very rare in regencies but fascinating to the author, a former newspaperwoman.
Music plays a big role: Olivia plays pianoforte and Spanish-style guitar; there are three very different concerts in the story.
Water also is big: the hero falls in the sound and nearly drowns; the heroine surprises the hero during a steamy bath.
Olivia lies to help a wounded veteran and he is a strong secondary character. Services and conditions for war veterans were poor at this time.
My Review:
My Rating: 4 Stars
A lovely, thoughtful, and entertaining regency romance. 
There's just something I love about a historical romance of this type. It's sweet, there is very little sex and it's not graphic at all. However, I always enjoy being reminded of a bygone era, in which simply flashing a bit of ankle was incredibly sexy. When a touch, caress, or kiss, or a single lady being in a man's residence without a chaperone was dangerously scandalous. Somehow, it offers a bit of perspective and balance to what our world is like now. Don't get me wrong, I LOVE steamy, graphic, kinky sex scenes, but I certainly appreciate the qualities in this type of romance. Even it the confines of modesty, the author still creates a palpable heat, sensuality, and chemistry between Livvie and Will, and the progression of their relationship was definitely one I enjoyed.
In addition to the romance, the book highlights social issues of the time, including women's rights, and the plight of military veterans returning from war. Not only is the book romantic, but thought-provoking as well.
Penttilla's writing has a lyrical quality that is perfect for a romance set in this time period and is a lovely compliment to the "musical" undertones of the plot. This is a great read, I would recommend it to all romance fans and especially fans of historical  romance.
*I received a complimentary copy of the book in exchange for a fair and honest review.
Excerpt:
"First Kiss"
"I might tell you one of my secrets." She gave him an oddly timid smile, as if she were unsure of her allure.
"A false promise. You have no secrets from me."
"No?"
"Not with that expressive mouth. And those eyes." He stroked her chin. "And that jaw line."
She leaned into his touch. "Can you be sure?"
"As sure as I am of anything. I knew you were hopping mad when you came in here, and it was not all about me."
"True." She lifted her head away, just a fraction, from his hand. "But you didn't seem to know you'd stung me in Mr. Swizzlewit's office."
"I did know. But what you may not have known was that our solicitor had given me the worst of news, and I was angry with the world and ready to lash out. Unfortunately for you, and for me."
"For you?"
"Most assuredly. For I knew it meant that later I would have to humble myself abjectly and plead for forgiveness."
"You did not need to."
"I did. You see, Miss Olivia Delancey, your good opinion means much to me, it turns out. I did not feel right after you left, not until I saw you walk through my door."
"Such flattery."
He shrugged. "Truth. We don't go much in for lying here."
It was her turn to put her hand over her heart. "I thank you for your kind apology. It is accepted. Now may I do something for you?"
He could imagine many things she could do. Likely none of them were what she was thinking of. "What?"
"Come to Plymouth. I know the town well, and can guide you. We might even arrange to row out and meet the ship in harbor. A first."
"A scoop."
"Meet me at our house at Manor Gardens above Union Street. I'll get you your story."
How could he say no? "Deal. And a finder's fee." He took her jaw in his hand again, thumb over her cheekbone, and pulled her gently toward him. He brushed his lips against hers. The barest whisper of a touch, but it pushed all the thunderclouds from his mind, making way for the sweet warmth of spring sun.
Then she pressed back, and the sun grew hotter. His hips moved of their own accord closer to hers, possessive. Her hand on his chest, over his heart, seared him, marking him as hers.
Footsteps sounded in the hallway, and they pulled away. Her gaze was softly intent, as if she were trying to read his mind. He prayed she could not.
Purchase this Book:
CLICK HERE to enter to win a copy on Goodreads.
About the Author:
Nicky Penttila writes stories with adventure and love, and often with ideas and history as well. Her favorite settings are faraway cities and countries, because then she *must* travel there, you know, for research. She lives in Maryland with her reading-mad husband and amazing rescue cat. She's chattiest on Twitter, @sunshinyday, and can also be found at nickypenttila.com and on Facebook.
Connect with Nicky:
Facebook Page: Nicky Penttila, author
Pinterest (sometimes)
Present but rarely on: Google+, FriendFeed, new.myspace.com, shelfari, Kindleboards
Member of: Washington Romance Writers (Romance Writers of America), The Beau Monde (RWA), Historical Novel Society, National Association of Science Writers
CLICK HERE to visit more stops on this tour!